Column: At Ernest Hemingway's final home, seeking answers
Bill Maxwell
The Eagle-Tribune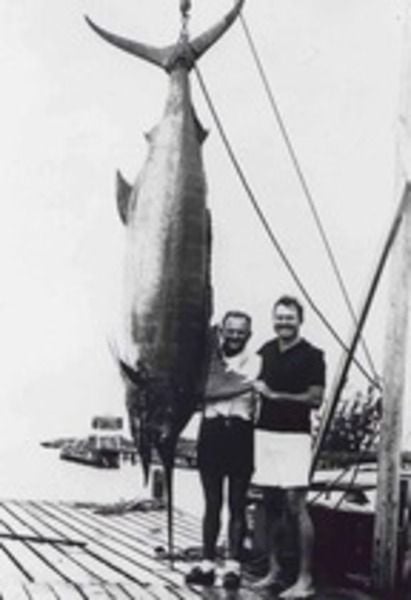 KETCHUM, Idaho — I came to this small town in the foothills of the Sawtooth Mountains to fulfill my childhood dream of visiting the last home of my favorite American writer, Ernest Hemingway.
In 1979, during my only trip to Paris, I went to a hotel where Hemingway had a long-term room, and I had a few drinks in some of the bars and cafes he loved. While working in Chicago, I went to the site of the author's birthplace in nearby Oak Park. When I taught at Florida Keys Community College in Key West, I took students to Hemingway's home and to the original Sloppy Joe's bar where the author regularly drank.
I enjoyed these places, but they never intrigued me like Ketchum, where on the morning of July 1, 1961, Hemingway killed himself with a shotgun. Like other Hemingway devotees worldwide, I wanted to experience as fully as possible the place the author had called home for the last time, where he hunted and fished in Silver Creek Valley, where he drank and ate, and where he is buried.
Hemingway scholar Kirk Curnutt wrote that such readers look beyond the author's printed words for understanding. We come to Ketchum "searching for traces of the personality that saturates (Hemingway's) every sentence." We want to know what "Papa," as he was called in his later years, was really like. As a journalist, I have a special interest in how Hemingway, who won a Pulitzer Prize in 1953 and the Nobel Prize in literature in 1954, honed his skills as a correspondent for the Kansas City Star, the Toronto Daily Star, the North American News Alliance and other publications.
As I ventured onto hillsides in Sun Valley, down into the meadows and along the banks of Silver Creek and the Big Wood River, Hemingway's evocations of nature came alive. I imagined the cries of sandhill cranes and the honking of Canada geese as Hemingway described them. I could see mallard and cinnamon teal take flight. In the rivers and creeks, trout leaped through the surface for insects.
I remembered the photographic accuracy of a hunting scene from the short story "The Last Good Country." I found a copy of the story in a Nick Adams anthology I bought at the local bookstore. "They were after partridges so he pulled out the tube of the magazine and poured the long-rifle cartridges into his hand and then put them into a chamois pouch and filled the magazine with .22 shorts," the narrator says of Nick. "They made less noise and would not tear the meat up if he could get head shots."
It was pure Hemingway.
Unaware of the procedures, I did not get permission to visit Hemingway's house so I drove to the author's memorial on Trail Creek Road, a mile northeast of Sun Valley Lodge. It is a fitting memorial, tucked away in a wooded area where Hemingway once fished and hunted.
From there, I went to Whiskey Jacques, rebuilt after a 2008 fire, where Hemingway loved to drink and eat steak. I ate grilled Idaho trout, feeling good to be where Hemingway hung out so many years ago.
I kept his final resting place for last. He is buried along with relatives in the cemetery on State Highway 75 near downtown. It is a nondescript grave facing the mountains. Hemingway would have wanted the setting just as it is: clean and enigmatic for its simplicity.
The author did not leave a suicide note, so scholars are still searching for answers. I stared at the grave, not really thinking of why Hemingway killed himself but about the brutal truth of his comment to A.E. Hotchner, his friend and biographer: "Every man's life ends the same way, and it is only the details of how he lived and how he died that distinguishes one man from the other."
I am one of the thousands of readers who come to Ketchum trying to discover some of the details of how Hemingway lived and how he died. Perhaps it is all too simple — like our hero's style — for us to fully comprehend. But we will continue to come here.
Reach Tampa Bay Times columnist Bill Maxwell at bmaxwell@tampabay.com. Distributed by Scripps Howard News Service, www.shns.com.
://www.eagletribune.com/opinion/x1912995411/Column-At-Ernest-Hemingways-final-home-seeking-answers