For this post, I present some trivia that people might not know about Hemingway.
His father committed suicide. His first wife's father committed suicide. Two of his siblings committed suicide. His former wife, Martha Gelhorn, committed suicide. His Italian muse, Adriana Ivancich, committed suicide. And, of course, Hemingway committed suicide in 1961.

He originally grew the beard to hide a recurrent skin condition and it became his signature look.

He never went to college.
He had an amazing wit and sense of humor, which is not evident in his novels. Read his letters.
He had little interest in his sartorial presentation. He preferred loose slacks or shorts and wore them to rags.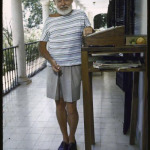 His pets were part of his family and he worried about them tremendously when he was away from home. The death of a stray who became his constant companion, Black Dog, threw him into a severe depression. He never got over that death.
10. He always wanted a daughter. His fourth wife Mary became pregnant and a girl was expected, but it was an ectopic pregnancy and was lost. Hemingway had three sons—Jack, the oldest, with his first wife Hadley, and Gregory and Patrick with his second wife Pauline.