Reprint from last year as there was some interest in the Coop/Hem friendship. Best, Christine
THE TRUE GEN: HEMINGWAY'S PHRASE FOR DISTINGUISHING THE REAL FROM THE FAKE, THE GENUINE ARTICLE FROM THE PHONY
PART ONE
I re-watched The True Gen, a documentary about Hemingway's relationship with Gary Cooper. It's narrated by the wonderful Sam Waterston and has fantastic footage of Idaho and of both men.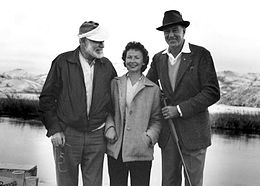 They seem like polar opposites: The cowboy from out West in Helena, Montana, and the suburbanite born in Oak Park, Illinois; the world's greatest actor of his era and the world's most imitated and celebrated writer perhaps of the 20th century; the conservative (Cooper) and the liberal (Hemingway); and yet they became the closest of friends. Cooper was one of the few close friends that Hemingway never had any lasting falling out with. Hem claims he wrote the character Robert Jordan (For Whom the Bell Tolls) with Cooper in mind. Cooper also starred in A Farewell to Arms.

They met on September 28, 1940 in Sun Valley, Idaho. Both men were at their peak. Hemingway, who had no use for Hollywood stars and did not seek out celebrity, had always wanted to meet Gary Cooper. Gary Cooper, the taciturn, very polite westerner, had always wanted to meet Hemingway. His friends were surprised to hear that he wanted to meet the allegedly boorish, womanizing, drunken Hemingway.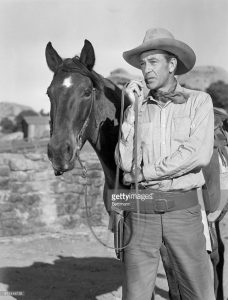 Nevertheless, he did want to meet him and he found Hemingway to be shy, self-effacing, fun, very different from what he had been led to believe. He could be boorish and he certainly could be drunk, but he often wasn't. As Gary Cooper's daughter Maria said, if Hemingway were the way he was portrayed in the press, i.e. a double-fisted drinking lout, her father would not have gotten along with him or liked him because her father was not that way. Hemingway was attracted to Cooper's true devotion to a lack of artifice.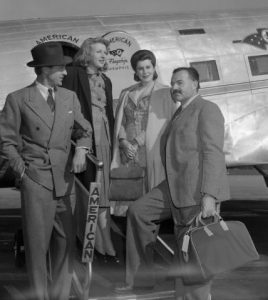 Gary Cooper was a genuine westerner who grew up on a ranch and on a horse. It's no wonder that he looked good as The Virginian or in High Noon. He also had a real talent in art and began attending an art institute. He was sidetracked on his way through California to his next school,  when he stopped in Hollywood and saw a few of his friends from ranches near home who had become stuntmen.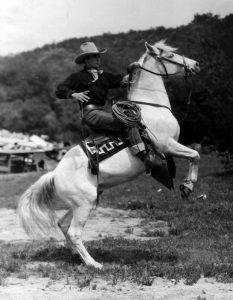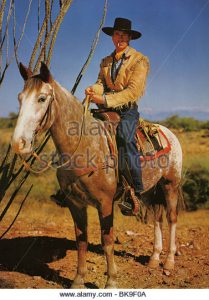 He thought he could do that because he really could ride a horse and in short order, he became a stuntman. With his tall lanky good looks, he was given a small part in a film but he'd shone brightly even in that small role and shortly thereafter was cultivated into a star.
Hemingway never completed high school. He tried to enlist in the service in 1916 but his eyesight was so bad that he was rejected. He qualified however to be an ambulance driver, which he did in Italy. He was wounded and it forever shaped his view of war, courage, and concern about senseless violence.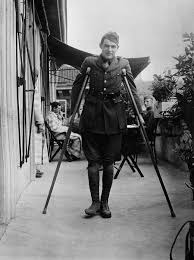 Cooper and Hemingway met regularly over the years. At times, Cooper's wife Rocky recoiled from Hemingway's bad behavior. Coop just shook his head but rarely was affected by it. Further with just a look, he could make Hemingway behave in a best version of himself. One example given in The True Gen was when Cooper and Hemingway with their families were staying at a hotel, and a young employee at the hotel interrupted Hemingway when he was writing and HEm was peeved. When he saw the young man later in the day, Hem chewed him out. He was so harsh that Rocky, Cooper's wife, said she wasn't going to continue the trip with Hem. With very few words, Cooper took Hemingway aside. Hemingway then humbly apologized to the assistant and went so far as the next day to give him a large tip and apologize again. Hemingway came back to the car after the apology and said to Cooper, "Are you happy now you long-legged son of bitch?" It was said in good humor and Cooper just nodded. The trip continued.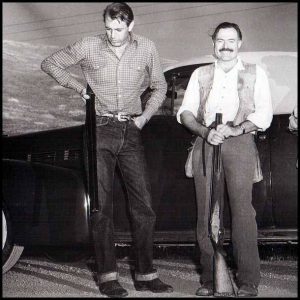 To Be Continued