Earlier this year, a trove of about 2,500 documents from Hemingway's home in Cuba, Finca Vigia, were shipped to the Hemingway collection in the John F. Kennedy Presidential Library in Boston.  They were digitized and many have already been made available.  The documents include letters, lists, diaries, telegrams, insurance policies, bank statements, passports, a page of his son, Patrick's, homework, and many Christmas cards.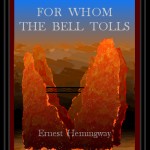 For those of us who love and follow all things Hemingway, it's an enormous boon that he was a packrat.  He seems to have saved everything.  In 2008, another group of documents and letters were sent to the library, including an alternate ending for For Whom the Bell Tolls. Robert Jordan lives?? 
In reading about the material that went to Boston, I felt sad all over again.  When Hemingway and Mary left, they didn't know that they would not be going back.  Books were left open, shoes were left out, a Glenn Miller record was on the phonograph.

After Hemingway's death in July of 1961, relations with Cuba could not have been much worse.  The Bay of Pigs invasion occurred in April of 1961 and our two countries were not cozy.  Nevertheless, John F. Kennedy quietly arranged for Mary Hemingway to travel to Havana and meet with Fidel Castro.  They agreed that Mary could take paintings and papers out of the country and in return, she gave the Finca Vigia and its remaining contents to the Cuban people.
The property declined significantly, but due to the efforts of the Finca Vigia Foundation, which was started by Jenny Phillips, the granddaughter of Maxwell Perkins, Hemingway's long-time editor, the decline has been arrested.  Documents are being preserved and the house has been shored up with some repairs taking place.

It was interesting to read about the documentation and how it came through in a very random way.  In the middle of a folder of Christmas cards, a recipe might appear or an important letter about Hemingway's style.  A telegram from Archibald MacLeish congratulating him on For Whom the Bell Tolls is followed by Mary's hamburger recipes.  There are logs from his boat, the Pilar, as well as correspondence that Mary had.  According to Susan Wrynn, the curator of the Hemingway collection at the JFK Library, Mary Hemingway, while packing up papers to take back to America also burned some messages which were sent to Mary but were believed not to be written by Hemingway but by a newspaper man named Herb Clark, an old flame of Mary's in the Paris days.  Perhaps she thought that her own correspondence wasn't important?
There are also stories with edits by Hemingway critiquing his own work, noting "you can phrase things clearer and better."  Or, "you can remove words which are unnecessary and tighten up your prose."  All in all, it's quite a find and addition to this amazing collection.