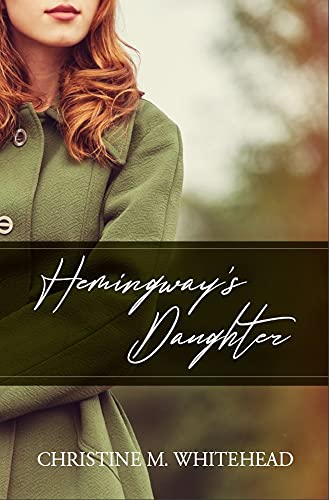 Review by Maria Beltran
5 Stars – Congratulations on your 5-star review
---
Reviewed By Maria Beltran for Readers' Favorite
Hemingway's Daughter by Christine Whitehead is a work of fiction inspired by the concept that multi-awarded American author Ernest Hemingway had a daughter. Meet Finn Hemingway, only daughter of the maverick American writer from his first wife, Elizabeth Hadley Richardson. Divided into five chapters named after Hemingway's books, it offers an intimate look at his life and time through the eyes of Finn Hemingway. From the early days in Paris, to Chicago and then Connecticut, Finn maintains a loving but sometimes tumultuous relationship with her father. Studying at Ellsworth Academy, where she is bullied by her classmates, Finn struggles under the glare of her father's larger than life personality as she tries to find her happiness and her own special place under the sun.

Hemingway's Daughter is a remarkable work of fiction that is so real one may actually start to believe that Ernest Hemingway really had a daughter. Author Christine Whitehead certainly has a very good grasp of the life and works of Nobel Prize-winning writer Ernest Hemingway. All the characters in the novel, except Finn Hemingway, are real people. The events are also factual and it is remarkable how the author is able to weave them around Finn Hemingway in a very authentic way. But what is most amazing is how this book unravels the man behind the legend because, as Ernest Hemingway interacts with his daughter Finn, you will discover a man who is mostly funny, surprisingly modest, and undeniably a loving father. It is refreshing to imagine that Ernest Hemingway was not only an exceptional writer, but was also very human after all.
Review by Emily-Jane Hills Orfor
5 Stars – Congratulations on your 5-star review
---
Reviewed By Emily-Jane Hills Orford for Readers' Favorite
Sometimes having famous parents can be more of a curse than a blessing. Of course, you might have everything you dreamed of owning: the best horse, the best schools, and the opportunity of pursuing the best career choice available. But sometimes things don't go as planned. Finn Hemingway was the daughter of the famous American author, Ernest Hemingway, his only daughter (fictionally of course as Hemingway never had a daughter). She was the apple of his eye, so to speak, though he seldom took the time to see her. When sent to a private girls' school, Finn is bullied by the mean girl set, put in a position where she has to defend herself, what she believes in, and who she really is. And who is Finn Hemingway? She's a young girl with a dream of her own to become a lawyer in an era where women are still considered second-class citizens. She wants to defend those who are defenseless. An admirable dream, but first she must overcome the mean girl environment, the loss of her first love to the horrors of war, and the overwhelming weight she bears throughout her life that identifies her as Hemingway's daughter. We all have our crosses to bear, but sometimes one person's cross appears heavier than another person's.

Christine M. Whitehead's novel, Hemingway's Daughter, is an enchanting story of a young girl growing up in a difficult era: the Depression years and World War II. Creating a character that never existed and plotting her next to a famous historical figure like Ernest Hemingway presents an almost Great Gatsby aura. The plot follows Finn Hemingway through her school years, college years, and early years as a struggling lawyer. It takes her through love and heartache as she searches for her sense of place outside the aura of her father's expansive spotlight. Each chapter is cleverly introduced with a quote from one of Hemingway's great works, a powerful foreshadowing of what the chapter will pursue. The characters are well developed and the story is believable as readers will start researching on their own to see if Hemingway actually did have a daughter. The structure of the plot follows the protagonist's three dreams, the most important dream to become "a female Clarence Darrow, righting wrongs, helping people." The reader will instantly feel compassion for the protagonist as she struggles to achieve her dreams and live her life free of the Hemingway aura. A brilliantly poignant story.
5 Stars – Congratulations on your 5-star review
---
Reviewed By Foluso Falaye for Readers' Favorite
Finley Hemingway is sad about having to move to a school for girls in Connecticut as she would be leaving her brother, mother, and her mother's new husband. However, the fourteen-year-old begins to build new relationships in her new environment with a girl who's not afraid to break the rules, Jeddrah, and Nicky, a boy who may be a boyfriend to Prill, her nemesis. Despite being born in the seriously sexist era of the mid-1900s to a family with a bad history of love and a famous alcoholic father who loves his women almost as much as he loves writing, Finn dreams of becoming a lawyer, finding love, and becoming a more important part of her father's writing and life. Christine M. Whitehead's Hemingway's Daughter depicts the story of a fictional daughter of the late American novelist, Ernest Hemingway.

An unrivaled mix of fiction and reality! I absolutely loved Hemingway's Daughter and the way major societal issues are woven into the story: relationship issues, substance abuse, sexism, war, statutory rape, financial problems, stardom, loss, mental disorder, and more. You know when you read a story and start to remember your similar experiences? I felt that way several times while reading this book. The characters felt so real that it's hard to believe they are fictional. Though the story progresses at a slow pace, it is deeply engrossing; I was completely absorbed in the book, its characters, and the historical period it is set in. Christine M. Whitehead's endearing and charming story about a daughter's love for her father and her bittersweet experience with her career and love life is recommended for special, cozy moments.
5 Stars – Congratulations on your 5-star reviEW
---
Reviewed By Shrabastee Chakraborty for Readers' Favorite
Despite having three sons, Ernest Hemingway, one of the greatest novelists ever, always craved a daughter. What if Hemingway had had a daughter? What if that daughter was a strong-willed woman who strived to make her mark in the law business, a male-dominated profession at that time? In Hemingway's Daughter, Christine M. Whitehead explores these possibilities by introducing Finley Richardson Hemingway, an imaginary daughter from Ernest's first marriage. The novel focuses primarily on Finley and her relationship with her world-famous father. As she grows up in the shadow of Hemingway, her life choices gradually come into the limelight. The novel sheds light on the illustrious character of Hemingway as well, redefining his rigorous writing process and his books.

Hemingway's Daughter is a beautiful book, merging a memoir and a coming-of-age story. While the central character never existed in reality, you couldn't have guessed it from the book. Christine M. Whitehead seamlessly incorporated Finley into Hemingway's life while strictly maintaining the timeline of the actual events. She described the unique chemistry between them – the daughter vying for her father's undivided attention yet learning to accept his ultimate devotion to his works. Finley Hemingway did not want to be overshadowed and did not want to bask in the reflected glory, either. She fought to pave a path for herself in a field that did not accept women. Despite having a skewed and unflattering view of love, gleaned from her father's four marriages, she learned to define it on her own terms. This is a gem of a book. I would recommend this heartwarming read to anyone who wishes to read realistic fiction.
Review by Jose Cornelio
5 Stars – Congratulations on your 5-star review
---
Reviewed By Jose Cornelio for Readers' Favorite
In Christine M. Whitehead's historical novel, Hemingway's Daughter, the iconic author's fictional daughter, Finn Hemingway, takes readers with her on an emotional rollercoaster of what it means to be the daughter not only of a famous writer but of a man who becomes an icon and whose weakness with women may have dire consequences for those who love him. Finn Hemingway has dreams of becoming a lawyer, of finding true love, and of ultimately helping in giving strength to her father's work. But can she succeed in a world where women are undervalued and relegated to second place in social and professional ranks?

This is a well-written and compelling novel with a fascinating premise that explores the question: What if Hemingway had a daughter? The author does an impeccable job in writing about the father-daughter relationship and how the way fathers treat their daughters reflects in the way daughters see and appreciate men. Finn Hemmingway is a compelling, sophisticated, and elaborately developed character who reflects the psychological conundrum of many young women born into famous families. Her emotions are written with ingenuity, especially what she unwittingly falls in love with the boyfriend of the one person in school that torments her and when her dreams of becoming a litigator are frustrated at every turn.

Finn is born into a family in which her mother always has her way, and that can be explained by the desertion of her father. Her father has so much going on with his writing and very little time to visit his daughter, and aside from his trips to Spain in support of the anti-Franco forces, there is the drinking problem which adds to the entire mess of unreliability. Her father's womanizing takes a toll on her, and it affects her badly, especially when every woman he has a liking for becomes a "daughter." These are facts constituting the context within which the conflict in this novel is written; it is psychological engaging and realistic. The writing in Hemingway's Daughter is gorgeous and the point of view, skillfully written in the first-person narrative voice, is absorbing. Christine M. Whitehead has the uncanny gift of unveiling the complex inner worlds of the characters and prompting readers to ask important questions about life, love, parenting, and womanhood. The novel is deftly written, balanced, and entertaining in an intriguing sort of way.
Review by Edith Wairimu
---
Reviewed By Edith Wairimu for Readers' Favorite 5 Stars
Hemingway's Daughter by Christine M. Whitehead is a creative and fascinating historical fiction novel that imagines the life of a daughter born to Hadley and Ernest Hemingway. Born in 1925, Finley "Finn" Hemingway grows up sharing her father with the world. As each of his marriages disintegrates and his popularity grows, Finn questions his commitment toward her and her brothers. In accordance with her parents' wishes, Finn begins attending a girls' boarding school which they believe will be a suitable place for an aspiring trial lawyer. In the boarding school's feudal social system, Finn struggles to fit in. She develops a long-term friendship with Jeddrah, a spirited and loyal girl. Finn wonderfully and ambitiously navigates the world of love and her legal career while living against the backdrop of her father's popularity.

Christine M. Whitehead develops a believable and interesting main character in Hemingway's Daughter. Finn is perceptive, sometimes even courageous enough to confront her father. Though turbulent at times, their bond is undeniable. Finn is also daring. She stands up to her bullies in boarding school and follows her dreams of becoming a trial lawyer at a time when such a career is inaccessible to women. The novel includes Finn's romantic relationships. They are passionate, absorbing, and they are developed consistent with the national and global events happening at the time. The novel is also well-researched and Finn's life moves parallel to her father's. The entwining of real events and fictional ones also adds realism to the novel. Masterly storytelling and compelling characters make Hemingway's Daughter by Christine M. Whitehead a standout young adult novel.