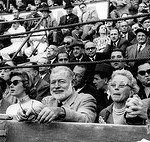 21.)      If you were lucky enough to have lived in Paris as a young man, then wherever you go for the rest of your life it stays with you, for Paris is a moveable feast.  A Moveable Feast.
22.)      You belong to me and all Paris belongs to me and I belong to this notebook and this pencil. A Moveable Feast.
23.)      Drinking wine was not a snobbism nor a sign of sophistication nor a cult; it was as natural as eating and to me as necessary.  A Moveable Feast.
24.)      If the reader prefers, this book may be regarded as fiction.  But there is always a chance that such a book of fiction may throw some light on what has been written as fact.  A Moveable Feast.
25.)      I always worked until I had something done and I always stopped when I knew what was going to happen next.  That way I could be sure of going on the next day.  A Moveable Feast.